posts 18% useful shit
SoSH Member
No more Revis? 
Good. I hated his stupid beard anyway.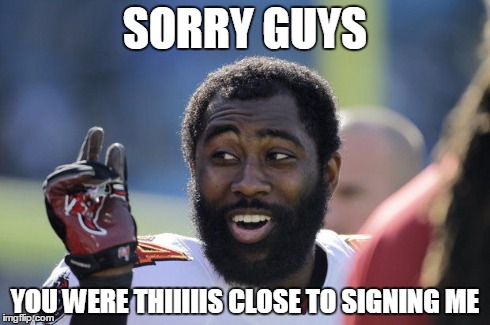 Here's my plan.  
2015 New England Patriots cap space
: 
$14,441,953
(3/11/2015)  
Potential Restructures
Stephen Gostkowski
- Franchise tag, $4.54. Long term extension averaging  $3.5mm a year.
Jerod Mayo
- Contract restructure. 1 year added to back end of contract, cap hit down to 7.1mm (current yearly average), guarantee a few extra million in the contract. Saves $3.1mm
Nate Solder
- Current cap hit, $7.43mm. Restructure long term. 5 year, $8 mm a year, $20mm guaranteed. Load the middle three years of the contract, only account for $6 mm cap space this year.
Danny Amendola
- No Restructure. Team has no leverage with dead cap hit.  
Total Savings:
$5.53mm
New Cap Space:
$19,971,953
Team Needs
CB
Pass Rush
DT
Guard
RB  
Plan
With a lack of premier corner backs left on the market, the Patriots may be better served focusing on a pass rush to limit the time for QB's to throw the ball. With that in mind, I feel money is better spent up front than in the secondary.  
Players to sign
Greg Hardy - due to the PR nightmare associated with signing him, there are already several teams with cap space who have expressed
no interest
in Hardy. I'd offer a 4 year, $32mm ($24mm guaranteed) contract to Hardy with years 2&3 containing the larger hit. While the total is low, the $24mm guarantee would be the fifth highest guarantee for defensive ends. It's quite a gamble, but players know it's all about guaranteed money. First year hit of $6.5mm.  
Chris Culliver - 3 year contract, $12mm total, $10mm guaranteed.  
Henry Melton - Should probably command less than Paea, and provides good pressure up the middle. 4 year contract, $16mm total, $12mm guaranteed, $3.5mm cap hit first year.  
Jacquizz Rodgers - 2 year contract, $1.2mm total, $1mm guaranteed. Can catch out of the backfield and despite his size, has shown a willingness to pass block. I'd prefer Pierre Thomas if he can come on the cheap, but I think you can get some value out of Rodgers for the Shane Vereen role.  
Dan Connolly - 2 year contract, $2.5mm total, $1.8mm guaranteed. He's 33 years old and won't command much money. Joe Berger, a player of similar age/skill just signed for 2 years/2.155mm total. The team knows they can win with him and will probably focus on some interior depth in the draft.  
This leaves the team with roughly a little north of $4mm to sign draft picks and play with.  
Feel free to tear this apart. How would you construct the 2015 new England Patriots?